Commercial Lawyer in Watford
How Can Laura Help You?
Laura is a Senior Associate in the Commercial team at our Watford office. She assists the team with the diverse range of instructions they receive, from general commercial contracts to specialist intellectual property matters. She also has a particular interest in dealing with consumer law issues for businesses and all areas of the supply and receipt of goods and services for organisations of all shapes and sizes.
Meeting Your Needs
Laura is happy to assist the team in all aspects of their instructions. She is involved in drafting legal documents, legal research, reviewing contracts, correspondence and advice to clients.
Laura has had a lot of experience in dealing with our IT and pharmaceutical and life science clients due to her sector specialisms in these areas. Her involvement offers a cost effective approach for clients without compromising on sector knowledge.
What You Might Like to Know
Laura graduated from Brunel University in 2007 after securing a 2:1 law degree in Law, including first class honours for her final year dissertation on patent law regarding the patentability of synthetic biology in Europe. After taking a gap year to travel and gain some work experience, Laura completed the Legal Practice Course at College of Law in London in 2009 with a top-class Distinction.
Laura qualified as a Corporate/Commercial Solicitor in 2012 and now deals solely with non-contentious commercial matters, working with our clients to develop, grow and enhance their businesses through assisting with a large variety of legal issues.
After spearheading a campaign around the patentability of stem cell research in Europe, through which she successfully established a 'Stem Cell Consortium' comprising academics, researchers, scientists, legal professionals, pharmacists and politicians, Laura was shortlisted for the Law Society Excellence Awards in the category of Junior Solicitor of the Year in 2014.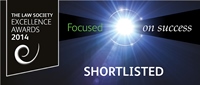 Laura was also shortlisted in the area of Technology Law for the Finance Monthly Law Awards 2015.
What You Might Like to Know
Laura is a member of:
the Junior Lawyers Division and Women Lawyers Division of the Law Society for England and Wales;
the Society for Computers and Law;
Health Tech Women UK; and
Women in Tech and Telecoms.
Along with her passion for synthetic biology and all things patentable, Laura is a bit of a history buff and likes to attend 1940s/50s theme weekends for some jump and jive action…Roll out the Barrel!