Partner & Corporate Lawyer in Watford
How Can Richard Help You?
Richard specialises in transactional and non transactional corporate law. The majority of his work is in mergers and acquisitions and corporate finance. He also advises on corporate governance. He advises banks on the banking and corporate aspects of their lending in the SME sector. He has expertise and experience in advising Limited Liability Partnerships.
Richard is an active member of the firm's Life Sciences team and has a number of clients in this and in the healthcare industry.
He has developed close relationships with a number of European and worldwide law firms, which he meets regularly. Richard and the firm receive regular work from these firms, but more importantly, these relationships allow him to identify the most suitable contact for clients of the firm who need legal advice outside the UK.
Meeting Your Needs
With 25 years of acting for a range of businesses from startup and owner managed entities through to significant SMEs and listed companies, Richard has developed a broad experience of commercial issues and that depth of knowledge enables him to provide proactive and practical commercial advice to his clients. He has been advising a number of senior decision making clients over many years and enjoys the strong 'trusted advisor' relationships that he has developed.
What Others Say
"Personable and very knowledgeable and practical, and able to communicate with the client. If I asked a question I would get a considered answer." - Chambers & Partners
"Practical and efficient." - Chambers & Partners
Richard is recommended in the latest editions of Chambers & Partners and Legal 500. Clients and referrers like his team ethos and ability to lead transactions over the line and his ability to defuse and resolve potential conflict.
Richard's Corporate team joined VWV on 1 February 2016 from Matthew Arnold & Baldwin. Legal 500 has described that team as "impeccable across the board", and has recommended Richard as "a very capable lawyer who is also able to see the bigger picture, meaning he can give practical advice not merely legal technical guidance."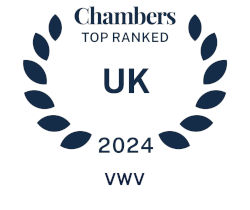 What You Might Like to Know
Richard is a regular participant in EMIG, the industry body and interest group for SME pharmaceutical companies.
He is a Director of WENTA, a not-for-profit business in the South East providing support and opportunities to startup businesses and in education. He is also on the Board of LawNet, the UK and Ireland's leading network of independent law firms. These appointments, combined with many years of law firm management, have given Richard a wealth of experience in running and directing businesses which he is able to apply to the advice he gives to clients.
Outside of the law, Richard's passions are a mix of hope, blind faith and dreaming... Arsenal, all things Welsh and independent travel. The former and the latter are tempered by the real centre of his life - his wife and two small children.