Partner & Education Employment Lawyer in Bristol
How Can Alice Help You?
Alice is trusted by schools and other employers to support them in tackling sensitive and complex employment law issues, in a pragmatic and commercially focused manner.
An experienced employment lawyer, Alice predominantly works with independent schools and academies, and is well placed to assist with restructuring or redundancy programmes, grievance and capability processes and managing allegations of professional misconduct.
In addition, Alice has a track record in academy conversions and has worked with many academies through their conversion and beyond, offering support in the consultation with staff and compliance with TUPE.
Alice also runs training sessions for school leaders to keep them up to date on topics as diverse as equality and handling complaints.
Meeting Your Needs
Alice has a genuine understanding and enthusiasm for the education sector, which means that schools can trust that the advice is appropriately tailored to their needs and will reflect the latest legal developments.
Apart from Alice's legal work, she is well known in the sector having worked with many of the associations and is a regular speaker at events with ISBA, IAPS and others.
Chambers & Partners described Alice as "an employment law specialist who is distinguished by her strong expertise in the education sector and is admired for her work in contesting claims at employment tribunals".
Year of qualification - 2000
What Others Say
"She has a good reputation in the education sector." - Chambers & Partners 2024
"Alice is approachable, friendly and helpful. Her advice is first-class. She understands our organisation and grasps the issues quickly, providing effective advice, which is trusted. I wouldn't hesitate to recommend her." - Chambers & Partners 2024
"She is responsive to us and provides quality advice." - Chambers & Partners 2024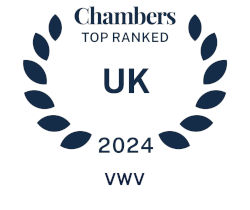 What You Might Like to Know
Alice is a member of the Employment Lawyers Association and has held several trusteeships in educational charities.
Outside of work, she enjoys family trips in their campervan and is a passionate supporter of Liverpool FC.