Insolvency Solicitor in London
How Can Ambuja Help You?
Ambuja is a Partner in the Commercial Litigation team, based at our London Office.
Ambuja has over 12 years' experience working in the insolvency, business restructuring and asset based lending sectors. Here, she advises insolvency practitioners, creditors, shareholders and directors of distressed businesses and individuals facing bankruptcy on all aspects of contentious and non-contentious business debt recovery and insolvency law.
Ambuja provides strategic advice in relation to insolvency options to key stakeholders, business owners and individuals with a view to rescue and recovery rather than formal insolvency where possible. She can guide clients through a restructuring, solvent liquidation or insolvency process from start to finish beginning with applications for validation orders and administration appointments and attendance at creditors' meetings through to bankruptcy annulments and distributions to creditors.
She is highly experienced in dealing with the sale and acquisition of insolvent businesses, including through a pre-pack administration process, acting for either insolvency practitioners, purchasers or guarantors, and can assist in the negotiating and drafting of the necessary transactional documents. When needed, Ambuja is supported by the Real Estate, Employment and Commercial teams at VWV to ensure that any ancillary concerns relating to a sale are addressed.
She can assist parties in assessing the merits of any claims that may be brought against them and is able to give pragmatic solutions to help directors minimise the risk of trading whilst insolvent. She has experience of dealing with attempts to claw-back antecedent transactions such as preferences and transactions at an undervalue and has also advised in respect of potential transactions defrauding creditors and allegations of wrongful trading and misfeasance. She is accustomed to assisting parties who may be faced with claims from the Insolvency Service, the Official Receiver or an insolvency practitioner in respect of their prior dealings with an insolvent entity.
Ambuja also provides specialist advice to businesses who have been affected by key suppliers going bust or customers becoming insolvent, individuals with family members who are bankrupt and landlords of insolvent tenants and aims to highlight, at an early stage, the rights and options you may have available to you to assist you in reaching as favourable an outcome as possible.
Meeting Your Needs
Prior to qualifying as an insolvency lawyer in London, Ambuja worked for three and a half years as an insolvency administrator with a Top Ten UK accountancy firm in their Recovery & Restructuring department which gives her a unique perspective of your practical requirements and a helpful insight into insolvency practitioners' operations enabling her to provide commercial, as well as technically sound, advice.
She particularly appreciates the need for prompt action and support at a time when financial pressures can appear overwhelming and when urgent steps need to be taken.
What Others Say
"Ambuja has a very good insolvency brain and is able to explain her advice very well both to clients and professionals." - Chambers & Partners 2024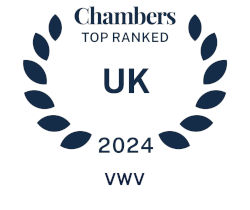 What You Might Like to Know
Ambuja is the holder of a Certificate of Proficiency in Insolvency (CPI) and is an associate member of R3, the leading organisation for insolvency, restructuring and turnaround professionals and has contributed articles on the links between invoice discounting and insolvency to publications such as Business Money magazine. She is also a mentor on the Law Society's BAME Mentoring Scheme.
In her spare time, Ambuja likes to combine her love of travel with her penchant for food and enjoys discovering unusual, and hopefully tasty, dishes on her trips abroad. She is a lifelong Arsenal supporter and current season ticket holder and always believes that this season will be THE season.