Contentious Probate Solicitor in Bristol
How Can Fiona Help You?
A specialist in her field, with many years experience dealing with a broad range of inheritance and Will disputes and trust disputes, Fiona is ideally placed to assist you.
Her clients range from private individuals including executors, administrators and beneficiaries, to professional trustees and executors.
Meeting Your Needs
Fiona is committed to achieving the most favourable outcome for her clients, and sees litigation as a last resort. She deals with cases in the most cost effective way she can, and she is experienced in achieving out of court settlements by way of mediation and other forms of alternative dispute resolution.

Fiona is formidable, tenacious and truly understands the complexities of a case.
What Others Say
Legal 500 describes Fiona as "tenacious'', "thorough, focused and helpful" and "constructive and efficient."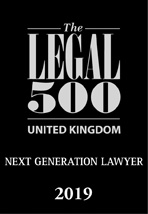 A client for whom Fiona successfully settled a Will dispute says "We have received an exemplary service. Fiona dealt with our case with vigour and took time to be thorough in all aspects of the matter. The service was efficient, very effective and we are very grateful to her and her team!"
A client for whom Fiona continues to act in a complex breach of trust case says "VWV have been my lawyers since 2010. They have continued to be thorough, focused, helpful, able to anticipate each step and to problem solve throughout my dealings with them."
[Fiona is] 'able to clearly and succinctly define the boundaries of a problem, inspiring confidence in the accuracy of her conclusions'. - Legal 500
Legal 500 have named Fiona Lawrence as a Next Generation Lawyer.
"Michelle Rose and senior associate Fiona Lawrence are both excellent, with excellent client service and good commercial sense." - Legal 500
"Fiona Lawrence is meticulous in her attention to detail and has an excellent client manner." - Legal 500
"She has the ability to make really difficult legal concepts digestible to her lay clients." - Chambers' HNW Guide
"Fiona Lawrence has 'profound knowledge of the field' and advises on contentious multi-jurisdictional trust issues, inheritance disputes and Court of Protection matters. One client commends her handling of cases, highlighting that 'when the favourable evidence was dug out, Fiona immediately grabbed the chance and acted efficiently and thoughtfully, leading to a great outcome at the end.' Another client enthuses that 'she was very professional, also keeping in touch and up to date with everything.'" - Chambers HNW 2020
What You Might Like to Know
Fiona has been at VWV since 2002, and previously worked for Thring Townsend.

She is a member of the Association of Contentious Trusts and Probate Specialists (ACTAPS).
Fiona recently acted in a Will challenge case, which resulted in a reported judgment Tachi v Woodward [2018] WL 0627 1050
Fiona acted for the successful personal representative Claimant, Mrs Green, in the widely reported High Court case of Green v Astor [2013] EWHC 1857, the first reported decision in which the Court has ordered a beneficiary to pay the costs of an application by a personal representative for directions, on the grounds that his unreasonable conduct was responsible for the costs of the application.
Fiona had an article published in an edition of PS, the magazine of the Law Society's Private Client Section, entitled 'Stuck in the Middle', in which she and Christine Green provide a first hand account of how challenging the role of Independent Administrator can be, with reference to the Green v Astor judgment. A version of this article was also recently featured in the Association of Contentious Trust and Probate Specialists (ACTAPs) Journal.
Fiona recently had an article published in another edition of PS, the magazine of the Law Society's Private Client Section, entitled 'Casing the joints', in which she and Julia Hardy consider the problems faced by personal representatives in relation to joint bank accounts after the death of one of the account holders.
VWV was successfully chosen as the winner of

Corporate Intl Magazine's legal award 'Private Client law firm of the year in England 2016'. The awards recognise those who have shown excellence not only in expertise but in service and is based on independent research, focusing on how the business operates and the expertise the firm can offer.

VWV's Private Client team was announced as winners of the 'Trusted Private Client Law Firm' Global Award for 2016. This award showcases the achievements of the most successful and ground-breaking individuals and those who have had outstanding performances within the last year.
Outside work, Fiona enjoys spending time with her family and is kept busy by her two young boys.