Commercial Property Solicitor in London
How Can Jon Help You?
Jon has been a commercial property lawyer for over fifteen years and plays a key role in the Real Estate team in our London office. With extensive experience of complex and high value property transactions, Jon works with a diverse range of clients across a number of sectors including property developers, charities, education institutions, retailers and property investors.
Meeting Your Needs
On every project Jon strives to ensure that the client's desired results are delivered in an efficient and cost effective manner. He also fully appreciates that a client's commercial aims must not be forgotten when complex legal issues arise.
What Others Say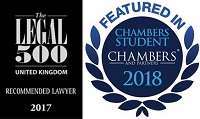 Jon is a recommended lawyer in the two leading legal directories - Legal 500 and Chambers and Partners. Chambers and Partners 2019 notes that clients say of Jon that he is "precise, detailed and delightful to work with" and that "he has a very sound knowledge of his subject and is a safe pair of hands in complex transactions".
Previous editions of the legal directories have contained client quotes stating that "he is technically very strong and able to deliver business-focused advice" and that he has "first class technical and communication skills". He has also been commended in the directories for his "excellent knowledge" of his clients' businesses.
"It has been a pleasure working with you. It makes everyone feel secure knowing that we have a strong professional well versed in Real Estate Law working with us." - Rosalie Mignano, Vice President Global Real Estate & Facilities Management at IMG Worldwide Inc.
"Jon is always available and sensible in his approach" - Neil Andrews, Head of Property and Facilities at Citizens Advice.
"I know I can always rely on Jon and trust his judgement and ability to deliver to deadlines. I also value the fact that I can have open conversations with him and that he will often suggest other routes to achieve the same goal." - Chambers & Partners
What You Might Like to Know
Jon is a member of the Commercial Real Estate Legal Association and a regular speaker on current issues in the commercial property market. Outside of work he is a keen football player and golfer, when the demands of a young family will allow.