Employment Lawyer in Watford
How Can Rebecca Help You?
Rebecca is a Senior Associate in the Employment team, based in our Watford office. She provides advice on all aspects of employment law including advising and drafting employment contracts and HR policies, advising on employer and employee disputes relating to unfair dismissal, including settlement agreements, and all forms of discrimination and redundancy management.
She also advises employers and employees in relation to all matters arising from termination of the employment relationship.
Rebecca is also a member of our Pharmaceuticals and Life Sciences team.
Meeting Your Needs
Rebecca is personable and is focussed on building strong relationships with clients. Rebecca keeps a realistic view of what can be achieved in employment law terms, whilst providing sensible, commercial and practical advice.
The Pharmaceuticals & Lie Sciences team have been voted 'Pharmaceutical Law Firm of the Year in England 2016' by Global Legal Experts.
Year of qualification - 2008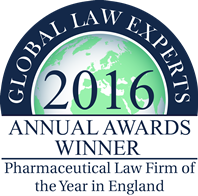 What Others Say
"Rebecca Fox's support was superb and her experience and guidance extremely helpful throughout this case she is a superb solicitor." Adrian Kitching, Director, Megaman UK
"Rebecca is outstanding. I have been really impressed with her. I would like to take an opportunity to express my thanks towards the professionalism, speed and aptitude shown by Rebecca in handing my recent employment settlement.
These events can be and often are difficult. Rebecca explained the entire process and my legal standing succinctly. She did this at a pace that helped me act professionally, thereby easing the situation with my previous employer.
Whilst I recognise the firm must do many of these, I felt that the attention afforded to me was undistracted, prepared and focused. Keep up this customer service." Private client
"Great service - you were fast in your action and provided very lucid explanations in terms of next steps, could not fault you."
What You Might Like to Know
Rebecca approaches her work with enthusiasm and positivity. She goes to the gym but prefers to run outside when the weather permits.