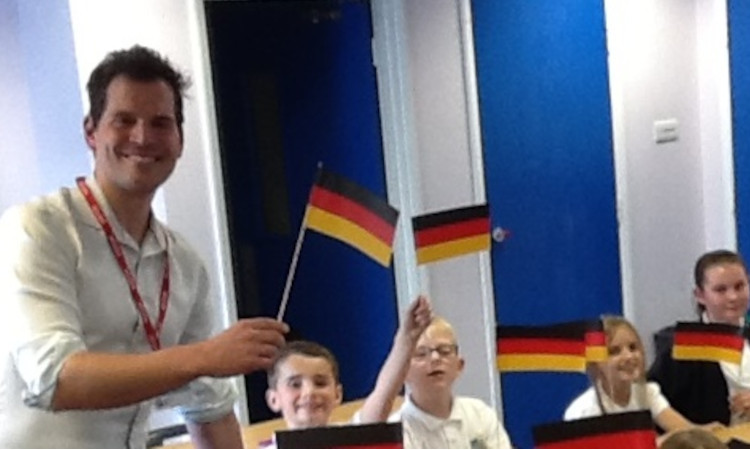 German Saturday School Bristol is a parent initiative for children aged 3-11 from bilingual families where German is spoken on a regular basis. The school was closed when the country first entered lockdown but reopened five weeks ago for 5 lessons on Saturdays in June/July 2022.
Because Kai's children went to the German Saturday School pre-Covid, he decided to join the new management team when the school reopened. He was soon asked to put his public speaking skills to good use and start work as a German teacher. Kai had previously volunteered to teach a German club at a primary school in Keynsham near Bristol.
Kai's teaching has included language games, as well as the shared history of England and Germany - ranging from the first arrival of the Anglo-Saxons in Britain to the royal houses of Hannover and Saxe-Coburg and Gotha (now named Windsor).
Kai said: "I believe that understanding one another is the basis for cultural cooperation and friendship, so I hope that my students will continue to practise their German as much as possible."
Lessons are on 24 Saturdays of the year (spread of 3 terms, each of 8 weeks), from 10am to 12 noon in the Barton Hill Settlement.
The school continues to look for more German teachers and teaching assistants. Anyone interested in taking part contact Kai.
Kai is a Senior Associate in our Construction team and serves as the German Honorary Consul in Bristol.