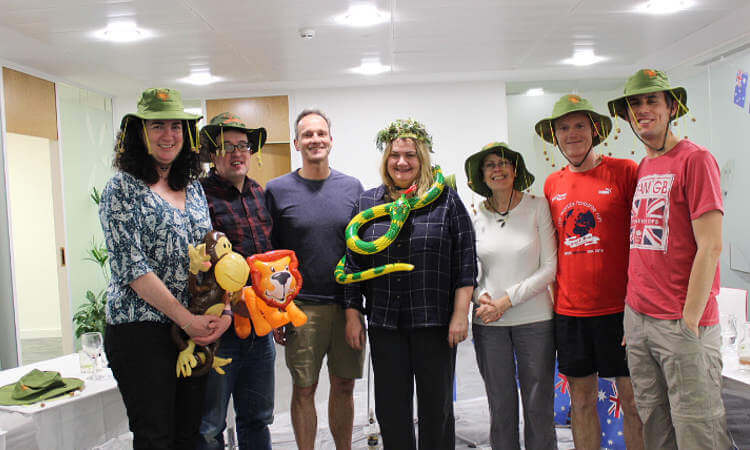 Left to right: Partners Al Cook, Rob Collier, Simon Bevan, Sam Hickman, Claire Ainley, Ed Husband and Ed Rimmell.

Our Bristol staff gathered in our Harbourside office to watch seven Partners go through a gruelling set of trials, which ultimately saw Partner Sam Hickman get crowned 'Queen of Narrow Quay House'.
With plenty of mess, laughter and audience participation, the contestants took part in a series of five challenges, including the aptly-named 'Jell-O from Hell-O' and 'Goldicockroaches Porridge', which saw the contestants using their mouths and feet respectively to retrieve as many stars as possible from a bowl of gunk and critters in a given time limit. The contestants also had their 'Insect Quotient' tested in a specially-designed quiz, before sitting down to a stomach-churning, three-course meal that included delicacies such as tarantula, chicken feet and a critter smoothie!
All the proceeds from the night are going to Ronald McDonald House, Bristol, the firm's chosen charity of the year. The charity provides accommodation to the families of critically ill children receiving care at the Bristol Royal Hospital for Children.
If you wish to donate to Ronald McDonald House Bristol, please visit our fundraising page.