VWV approach is a free network for law firms, run by Jo Campbell (Senior Associate/Business Development Manager), and Nikki Kenna (VWV approach Administrator), who live and breathe the ethos of the network and of VWV which puts the client at the centre of everything they do.
Law firms who join the network can refer their clients through VWV approach safe in the knowledge that there is a non-poaching agreement in place. Jo and Nikki know that this reassurance that member firms won't lose their clients to VWV is critical to the integrity of the arrangement and are active protectors of the relationship between the referring firm and their client.
With more than 120 firms in the network, the team are kept busy responding to requests from those firms to assist their clients, or indeed the firms themselves.
Jo and Nikki pride themselves in trying to find a solution to the client need, even when VWV itself can't assist.
It is not unusual for a client to tell Jo and Nikki they have tried numerous firms before coming to VWV approach - the record is believed to be a client speaking to 15 firms before getting to Jo! With the enviable network of VWV approach contacts, Jo managed to find someone to speak to the client within an hour of that initial call.
The VWV approach network is also a great support system for the law firms who are part of it, as those firms benefit from free seminars and networking opportunities with other local lawyers and are actively encouraged to treat VWV staff as their own colleagues. Jo and Nikki arrange and host the seminar programme and are very much the 'faces' of the network. They understand that trust is vital to the success of the network and that their interaction with the solicitors and staff at the firms who are part of the network are vital to the ongoing strength of the group.
We know the law firms who are part of the network value it because they tell us…

"Professional, responsive, efficient and generous... attendees at the initial training session were looking for the 'catch' but there isn't one. VWV approach provides extensive support and resources to smaller law firms. In addition to practical and focused training, I have also received helpful precedents and second opinions. As a specialist firm, it is invaluable to know that VWV approach can provide assistance when needed."
VWV approach, sole practitioner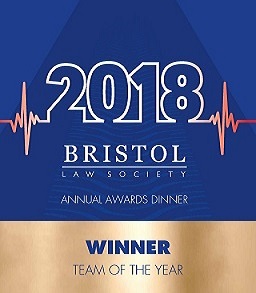 In 2018 VWV approach were the winners of the Bristol Law Society Team of the Year Award - an achievement they are very proud of!
What a great five years! We wonder what the next five years will bring?
If you run, or work within, a small- to medium-sized law firm and are not yet a member of VWV approach, we'd be delighted to speak to you. For further details please contact Jo Campbell on 0117 314 5251.