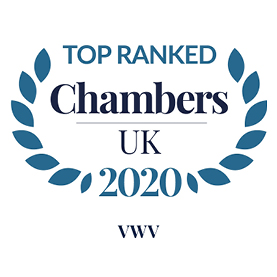 As a result of independent client and peer interviews, the directory ranks firms and solicitors based on the quality of their work.
We have maintained all 23 of previously-ranked areas of law from last year, with our Real Estate Litigation practice in London achieving recognition as the new 24th ranking. Across offices in London, Watford, Bristol and Birmingham, the firm now features in the top tier across six practice areas:
Clients speaking to Chambers & Partners praised the firm:
"They are extremely professional, friendly and approachable, are quick to respond and provide excellent and clear advice", said one client. Another commented "VWV are excellent to work with, offering quick, sound and commercially-minded advice tailored to meet the client's requirements and allowing the client to make informed decisions."
On an individual level, our solicitors have achieved widespread recognition in this year's guide, with 39 lawyers ranked, compared to 37 last year. This includes nine lawyers who are ranked in the top tier, the highest distinction.
Simon Heald, Managing Partner, applauded the firm's performance:
"The firm has grown much over the past few years and it is highly rewarding to see the results of our hard work.
"As always, our performance is spurred on by the continuous feedback and support of our clients. Their participation throughout the directory's research process is key, so I wish to thank them for making such achievements possible each year."