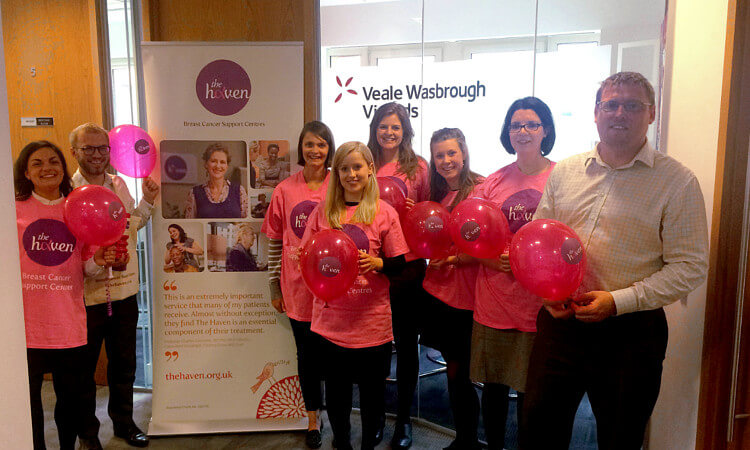 This year the VWV London office has voted to support Breast Cancer Haven.
The partnership involves the firm providing financial support throughout the year, including donations from the charitable trust as well as fundraising events.
It also involves a commitment from the firm to build a close working relationship with the chosen charity by learning more about their work, which will be achieved through a range of activities.
Simon Heald, VWV Managing Partner, commented:
"I am delighted that we are able to continue to support local charities where our fundraising can really make a difference. During our last financial year, we managed to raise funds through a series of activities, spanning the year for our chosen charities. We are hoping to build on this again this year, and raise funds including for Breast Cancer Haven."
Lanner Feltham, London Fundraising Manager, said:
"Breast Cancer Haven is delighted to have been chosen as the charity of the year for the VWV London office. 1 in 8 women in the UK will develop breast cancer in their lifetime. Our charity exists to improve the quality of life for people affected by breast cancer by providing personalised emotional, practical and physical support. We are really looking forward to working with VWV employees to help support people from across London as they go through this difficult journey."
Breast Cancer Haven offer breast cancer sufferers and their friends and family support. They offer advice on practical things like money and work, help combatting stress, exhaustion and nausea, advice on healthy eating and exercise. Their trained professional nurses, therapists, counsellors and advisers listen to individual concerns and give practical, emotional and physical support. Their support is free of charge and available in specialist Haven centres. They also offer family members and close friends of those diagnosed up to 4 hours of free counselling.
Previous nominated VWV charities include Bristol Children's Help Society, The Charlie Waller Memorial Trust, St Peter's Hospice, BRACE and St Mungo's Broadway.