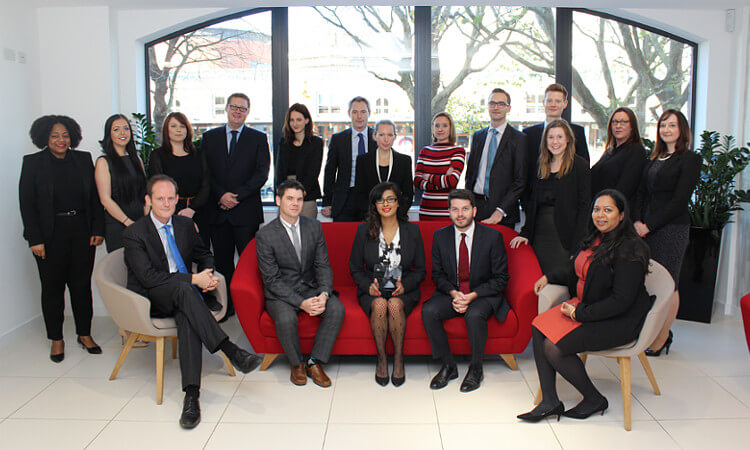 Early this month, Litigation and Recoveries department Partner Dee Kundi and her team were presented with the 'Best in Litigation - UK 2016' award from Acquisition International, an award that commends outstanding work throughout the legal world over the past 12 months.

The 11th Annual ACQ5 Global Awards also recognised VWV as the 'UK Debt Recovery Law Firm of the Year', while Dee Kundi, who leads our successful Debt Recovery team, received the 'Debt Recovery Lawyer of the Year' award and was also named 'The Rising Star Award 2016' at the Society of Asian Lawyers annual awards and ball.
Ed Husband, who leads the Litigation and Recoveries team commented:
"2016 has been a great year for VWV and the for the team. With four partners, Dee Kundi, Ben Holt, Ambuja Bose and me, being responsible for a team of lawyers working across our offices in London, Watford, Bristol and Birmingham, we are able to advise on a wide range of commercial disputes, including complex commercial and contractual claims, professional negligence, company and partnership disputes, insolvency, reputation management and debt recovery."
The firm provides a full range of legal services to commercial, third sector and public sector clients, and is widely recognised for its dispute resolution, insolvency and debt recovery work.
Dee Kundi speaks about the firm and provides an insight into the current success:
"VWV offers a unique combination of specialist expertise, genuine teamwork and client commitment which differentiates us from our competitors. It is our dedication to supporting clients which is of paramount importance.
We live in an increasingly litigious society and appreciate that disputes can be divisive, disruptive and expensive to resolve. Given the often difficult circumstances in which we are instructed, the team strives to provide consistent, pragmatic and commercial advice to clients.
Having joined VWV in January 2016, I am delighted that the dedication of the team has been recognised."
Examples of the team's clients include: EDF Energy, Wincanton, Yankee Candle, Brandon Hire, Tudor Rose, Miller Argent, Britannia Building Society, The Pensions Regulator, a large number of accountancy practices and leading independent schools and universities.
Independent legal directory Chambers & Partners describe our Dispute Resolution & Litigation lawyers as "a team of quality people, providing expert advice".
VWV Managing Partner Simon Heald also commented:
"Our Litigation team has built a reputation for offering clear and effective litigation and debt recovery to a wide range of clients. We are delighted to receive these awards, which are testament to the team's hard work and to the high quality service we are committed to providing our clients. We have recruited three new partners into the team in the last two years and see this as a key area of continued growth for the firm."