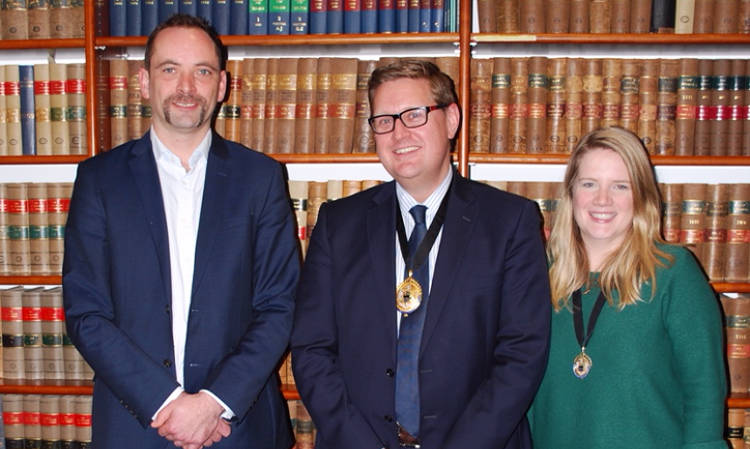 R-L: Edward Thompson Junior Vice President, Ben Holt and Erin Sawyer Senior Vice President
Ben, who was the Senior Vice-President this past year, will now be adopting the role of President and promoting the legal sector in Bristol. His focus will be on preserving the integrity of the profession and promoting business in the City.
The Society acts as a representative voice for the local legal profession working in conjunction with the national Law Society. Founded in 1770, it is the oldest local law society in the country, celebrating its 250th anniversary this coming year.
As well as providing training and networking events to its members, Bristol Law Society has increased its spread of activity over the past few years, in particular developing new legal-tech/innovation and CSR initiatives. It played a key role in co-ordinating the legal sector's support for the Feeding Bristol campaign providing meals to the region's disadvantaged children, with around 60% of volunteer time coming from local lawyers. In addition, the Society hosted events to discuss wellbeing during Mental Health Awareness Week and have demonstrated support for legal mental health charity LawCare and supported Bristol Children's Help Society.
Ben joined VWV in 2015. He is a Partner in the Commercial Litigation team as well as leading the firm's Information Law group. Legal directory Chambers & Partners highlighted his "strategic and well considered approach," as well as describing him as "personable and approachable". Legal 500 noted, "Ben Holt is a superb partner, he keeps abreast of the detail, whilst ensuring that the overarching strategy is implemented efficiently". Outside of work, Ben is the drummer in a covers band and is a Blackburn Rovers supporter.
Ben commented:
"I am delighted and honoured to take over as President of Bristol Law Society. I look forward to representing my colleagues and the profession across our fantastic city and nationally, promoting community engagement, diversity and inclusion and of course celebrating the Society's historic 250th anniversary"