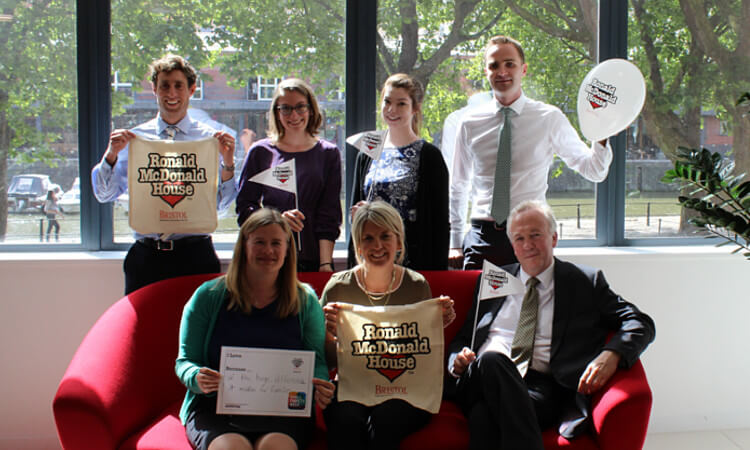 Established by the Foundation for Social Improvement in 2010, the campaign is taking place from 19-24 June. In 2014 it received the Big Society Award from the Prime Minister David Cameron.
As part of Small Charity Week, we are delighted to announce that Ronald McDonald House Bristol has been chosen as Charity of the Year by our Bristol office.
Ronald McDonald House Bristol helps families with critically ill children by providing free accommodation and support whilst their child is in hospital. Located five minutes from the Bristol Royal Hospital for Children, Ronald McDonald House Bristol opened in 2002 and has looked after 7,090 families over the years.
Each year, staff at VWV nominate a charity to partner with and raise money through a variety of fundraising activities, as well as donations from the firm's charitable trust.
Anna Palmer, Fundraiser with Corporate Responsibility at Ronald McDonald House Bristol, said:
"I am really excited about working with VWV over the next 12 months. We are a small independent charity with no regular source of income and have to raise £270,000 every year just to keep our doors open. The support and endorsement from a highly respected law firm such as VWV will be a huge asset to us, not only in helping to raise much needed funds but also in raising our profile.
I know our partnership will be a rewarding experience for everyone at VWV as well as for our team and ultimately for the families we will continue to support."
Simon Heald, VWV Managing Partner, commented:
"As a firm we are committed to raising awareness of the amazing work that local charities do and we are very happy to be supporting Ronald McDonald House Bristol this year.
The charity has provided invaluable help and support to families with critically ill children and we look forward to raising funds for them."
Previous charities nominated by VWV's Bristol office include the Julian Trust Night Shelter, Bristol Children's Help Society and BRACE.
For more information about Ronald McDonald House Bristol, please visit www.rmhbristol.com or call 0117 9081 375.