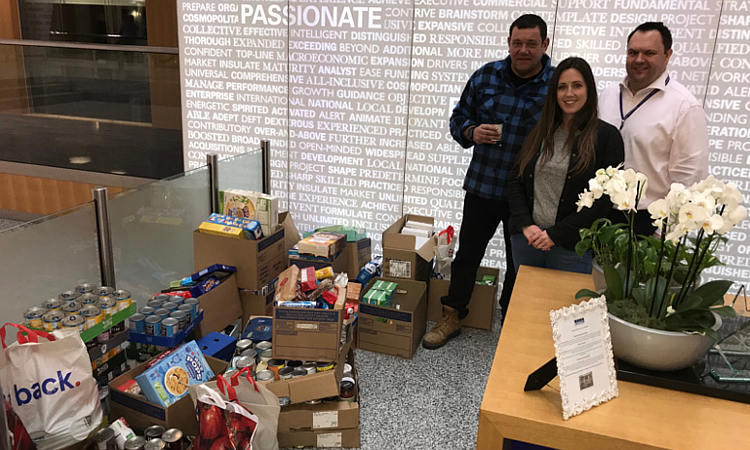 Chris Luff (Watford and West Herts Chamber), Amy Denton (VWV) and Dave Simpson (KPMG)

On Friday 16 November, we responded, along with 10 other local businesses, to the Watford and West Herts Chamber of Commerce's initiative, Clarendon Collects.
With over 1 in 5 people living below the poverty line in the UK, Clarendon Collects brings Clarendon Road businesses together with the aim to raise urgent supplies for Watford Foodbank. In the long term, the goal is to continuously offer a life line to the foodbank.
Over the past couple of weeks, we have been busy collecting items such as tea bags, cereal and sugar, to donate to the Foodbank.
Chris Luff, the Watford and West Herts Chamber's Chief Executive, commented:
"When the initiative was first thought of, we weren't sure of the level of commitment we would receive, but seeing the immense level of engagement from so many businesses is a real testament to Clarendon Road and the wider Watford.
However, with the best will in the world, it is important that we direct our efforts to those who are best placed to provide the frontline services, our local charities. With that in mind, please get in touch with me at Chris.luff@watford-chamber.co.uk if you think your charity could benefit from our support."
Watford Office Partner, Richard Phillips commented:
"The generosity of our staff and indeed of so many of those working on Clarendon Road is amazing. Whether it's a cake sale or taking part in a 100 mile bike ride, there is always a true sense of community when it comes to charitable giving and our involvement with 'Clarendon Collects' is one we will continue to support."