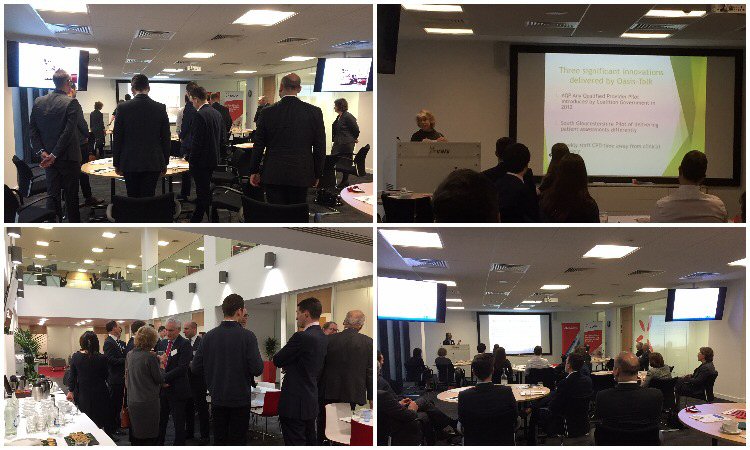 Vicki Palmer, CEO of Oasis-Talk, spoke about her experience of working within NHS primary care, the impact of the political background since 2012 and the changes to funding for services. Vicki shared her vision of "an integration of physical and mental health care for a more seamless level of patient care". She addressed the challenges relating to the delivery of psychological therapies in the future in an innovative and systematic way.
This was followed by Dr Melrose Stewart, who talked about well-being and the benefits of intergenerational activities. Dr Stewart has been involved in Channel 4's highly successful Old People's Home for 4 Year Olds series, which was filmed in a Bristol retirement complex operated by St Monica's Trust. She highlighted the importance of developing a more collaborative and holistic approach in healthcare to deal with the growing issues surrounding isolation, depression and well-being for the elderly.
With introductory and closing talks from Cushman and Wakefield and VWV, the event drew together the wider legal and property issues that have seen developments over the years both in the NHS and in private healthcare.
Sophia Sham from Cushman and Wakefield said:
"Cushman and Wakefield were delighted to host the Future of Healthcare seminar with VWV. It was fantastic to hear that the presentations provided valuable insight and interesting discussion for our guests."
Ben Willis, Partner and Head of Healthcare, mentioned:
"As healthcare specialists, we are delighted to have hosted this healthcare event alongside Cushman & Wakefield. Together, we understand the importance of keeping up with a fast changing healthcare sector. This event provides imperative sector information, useful platform for discussing and sharing best practice and informing healthcare professionals of key changes and developments. We look forward to holding more seminars in future."
Both VWV and Cushman and Wakefield plan to host another joint event together.
Since the creation of their healthcare advisory team in 2016 Cushman and Wakefield have gone from strength to strength delivering quality valuation and transactional service lines and advice across all parts of the UK. For more information please contact Martin Robb at martin.robb@cushwake.com or 0207 152 5901.
VWV's Healthcare team recently received the prestigious 'Legal Team of the Year' award at the GP Awards, which together with our Band 1 ranking from Chambers UK sets us apart from other law firms in delivering high quality advice and services to GP Practices, care homes, healthcare charities, social enterprises, dentists, pharmacies, private consultants, NHS and foundation trusts and vets. For more information please contact Gemma Pouncy on gpouncy@vwv.co.uk or 0117 314 5300.