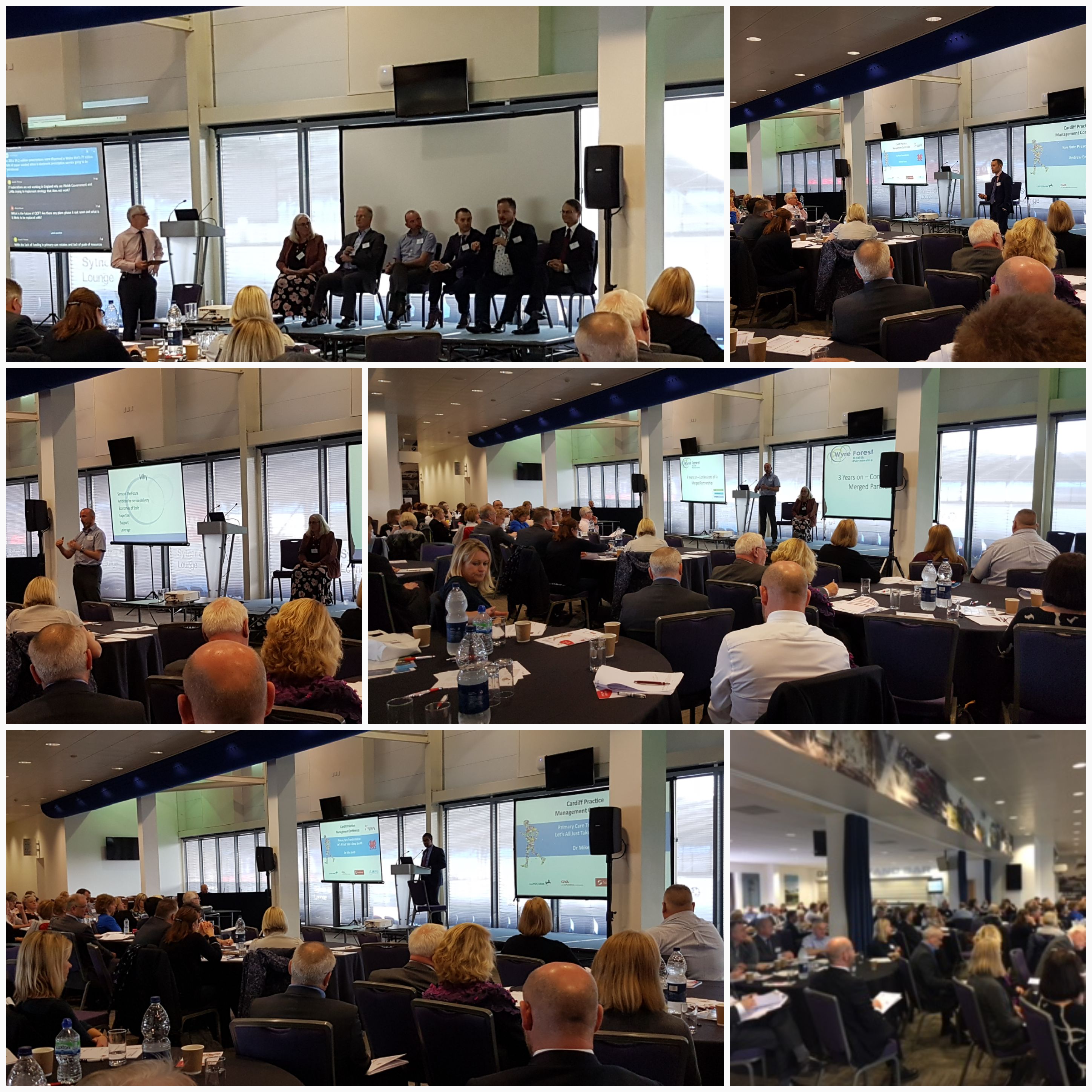 Thank you to our fantastic line up of speakers we welcomed on the day: Sarah Moore, Dr Mike Smith, Vaughan Gething, Clare Nock, Dr Simon Gates, Andrew Evans, Martin Dickinson, Chris Stockport, and Dr Richard More. A thank you also to our sponsors Lloyds Banking Group, Sandisons, MPRS, NHS Wales, Xytal and GVA.
This year's conference opened with a welcome speech from Ben Willis and Sarah Moore, Practice Manager at Parc Canol Group Practice, thanking all and a commentary about the overall day.
The conference then moved onto Dr Mike Smith, GP & Independent Consultant who spoke about how healthcare professionals need to be more clinically-led and expertly managed. Mike also emphasize the importance of practices to be surrounded with a network of like-minded and positive individuals and to work more closely and effectively together, investing in one another and increase in economies of scale.
Mike Smith also mentioned:
"Everything stinks till it's finished said Dr Seuss. Just remember that we are starting to turn things around, the green shoots are there. Learn from others don't give up. Celebrate your unique selves."
Mike's presentation was followed by key note speaker, Vaughan Gething, Welsh Government's Cabinet Secretary for Health, who discussed the aim to improve on the overall design and delivery of high quality information to empower patients and carers, improve overall access to local health care services in Wales, working differently to change the sector and moving forward together for a sustainable future.
For the '3 Years On - Confessions of a Merged Partnership' discussion, we were delighted to be joined by Clare Nock, CEO and Dr Simon Gates, Chair from Wyre Forest Health Partnership who talked first-hand about the benefits of their merged partnership with 6 sites 3 years on and shared their plan they executed as well as thoughts and advice to the delegates. Simon and Clare mentioned the importance of having like-minded people, work standardisation, good governance structure and an efficient information management process for a federation to work successfully.
Simon Gates stated:
"I always enjoy coming to a conference run by VWV. The audience is generally very engaging, but more importantly I find that I consistently take away several new ideas that change my practice."
The morning session ended with a presentation from Andrew Evans, Welsh Government's Chief Pharmaceutical Officer, who discussed the question: 'Are pharmacists the answer to sustainable general practice?', and how GPs and pharmacists can help each other in working more collaboratively and integrate with one another for sustainability purposes.
Andrew's talk was followed by a structured Q&A with our panel of informed experts, which addresses the common themes and issues raised by delegates and got them thinking more about the future of GP partnership model and debating on who drives/leads change in primary care the most - GPs or Practice Managers.
The afternoon began with a detailed and informative update led by Martin Dickinson, Head of Primary Care at NHS Wales Informatics Service (NWIS), explaining 'My Health Online', an online GP appointment booking software actively used by 91% of GP practices. Martin discussed how the overall healthcare sector needs to move forward and become more digitalised. 'My Health Online' also allows patients can take a greater involvement in their own personal healthcare at their convenience.
The Pacesetter Programme was next on the agenda with feedback provided by Andrew Evans, Deputy Director of Primary and Community Care and Mental Health Services, Powys Teaching Health Board and Chris Stockport Primary Care Medical Director from Healthy Prestatyn. They discussed Community Interest Companies (CIC) and how practices are present to work with and serve the needs of their local community.
The event closed on the topic of 'Modern Leadership in Modern Practices' presented by Dr Richard More, Co-founder of Xytal Ltd. Richard outlined the various different leadership styles in modern healthcare practices and how healthcare professionals are able to deploy the relevant leadership model(s) to the situation at hand in order to adapt and meet their practices' needs.
Richard More mentioned:
"We heard a combination of inspirational messages about both the possibilities for the future and successes colleagues have had. My talk majors on what choices we can make about our own behaviour to help us get to where we want to be. My key message about making choices for the future is that no decision is a decision no."
The primary goal of this conference was to bring together healthcare professionals as well as speakers and sponsors across Wales in an open dialogue, under one roof to discuss the issues facing the healthcare sector and to develop possible strategies as to how healthcare professionals can become aware and more engaged in their practice.
Our sponsor, Lloyds Banking Group, Tim Kibby (South & West Wales Relationship Healthcare Manager) mentioned:
"Lloyds Bank are proud to be a sponsor of the Cardiff Practice Management Conference for the fourth consecutive year. We understand that the NHS faces numerous challenges in the coming years and that the need for efficient, responsive partners has never been greater.That is why we are committed to working closely with GPs and Practice Managers to support the changes in funding needs and partnership transformation."
Ben Willis mentioned:
"I have always enjoyed running these events and having the chance to engage fully with the practice managers on the organising committee, the delegates on the day and the speakers. Primary care is changing fast and there is always so much to learn from the experiences of others. These help keep us up to date, and better prepared to give our clients relevant and commercial advice."
More information can be found in our conference resource area.
Thanks again to our speakers, attendees and sponsors! Together we enjoyed a terrific conference and look forward to seeing everyone at our next event.

Subscribe to our Healthcare Law Brief for details of future conferences.

---
For more information, please contact Ben Willis, Oliver Pool or Andrew Lockhart-Mirams in our Healthcare team for further help on working at scale or any other GP matters.