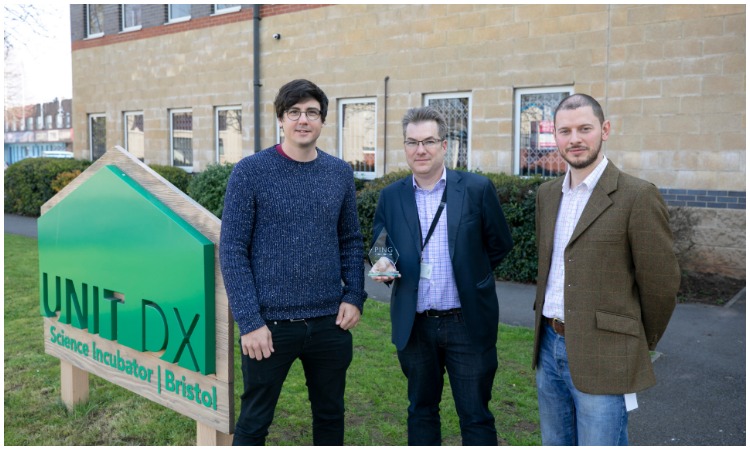 The PING Innovation Award recognises individuals and organisations whose innovative ideas, products, services or processes in the Pharmaceuticals and Life Sciences sector are making a positive impact on people's lives.
Harry Destecroix founded Ziylo Ltd in 2014 to commercialise his PhD research on synthetic glucose binding molecules. Ziylo's mission has been to help people with diabetes to live more normal and longer lives.
Ziylo's platform technology is based on over 20 years of cutting-edge research pioneered by Professor Anthony Davis' group at the University of Bristol.
Ziylo has developed an innovative technology platform, which could be a key component to enable the next generation of insulin, able to react and adapt to glucose levels in the blood, therefore eliminating the risk of hypoglycaemia - dangerously low blood sugar levels - and leading to better metabolic control for people living with the disease.
In August 2018, Ziylo was acquired by big pharma company, Novo Nordisk, the world leader in diabetes, in a deal valued at up to US$800m. Novo Nordisk's acquisition of Ziylo plays a key part in its strategic objective to develop the world's first glucose-responsive insulin - which would lead to a safer and more effective insulin therapy.
Harry also co-founded Unit DX, a science incubator in central Bristol, which is now home to 26 companies operating in the fields of personalised diagnostics, synthetic biology, quantum, and sensor fabrication. The incubator has facilitated the creation of approximately 100 scientific jobs and has provided over 1000 local school children with hands-on outreach activities, since its opening in May 2017.
Paul Gershlick, Chair of PING and Head of Pharmaceuticals and Life Sciences at VWV, praised the winner:
"Many congratulations to Dr Harry Destecroix for this richly deserved award. Diabetes is estimated to affect over 280 million people worldwide including four million in the UK. It is one of the biggest challenges facing global healthcare, including on healthcare budgets. With concern around Brexit, it is so uplifting to recognise innovators who show such a bright future for the Pharma & Life Sciences sector in the UK."
Dr Harry Destecroix commented:
"Thank you so much for selecting me for this award. None of this would be possible without the fantastic teams at Unit DX, Ziylo and Carbometrics. It is a credit to their hard work and the important research taking place in Bristol."
Previous winners of the PING Innovation Award include the Paul Strickland Scanner Centre, Sigma Pharmaceuticals Plc, the University of Hertfordshire, Proteus Digital Health and Leslie Morgan of Durbin Plc.
---