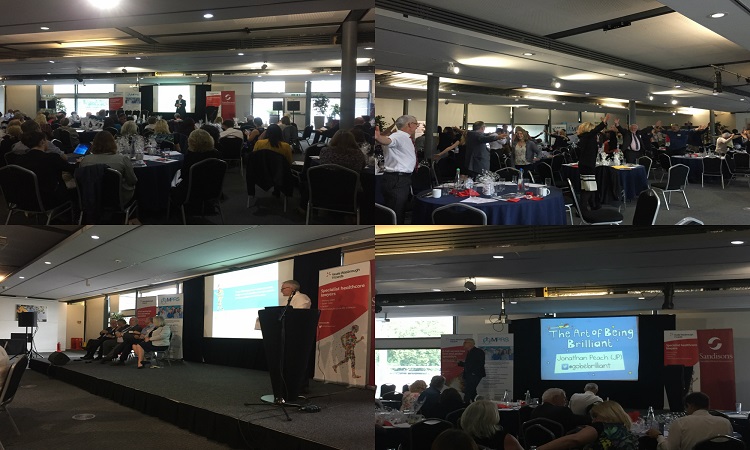 At the Annual VWV Practice Management Conference held in Bristol on 28 June 2017, in front of an audience of some 80 delegates, a panel of leading health care experts debated the motion:-
'That large, fully integrated partnerships (formed by merger or organic growth) are the right model for the future provisions of NHS GP services'
The panel, chaired by VWV Head of Healthcare Ben Willis and Partner Oliver Pool, was Dr Simon Gates and Clare Nock, respectively Chairman and CEO of the Wyre Forest Health Partnership, Dr Peter Swinyard, National Chairman of the Family Doctor Association, Nigel Grinstead CEO of Open Junction and Andrew Lockhart-Mirams, Consultant with VWV in the specialist Healthcare team and former Senior Partner of Lockharts Solicitors, who joined VWV in January this year.
The Conference had started with a video of Ben Willis interviewing Dr Arvind Madan, Director of Primary Care NHS England. Comments made by Dr Madan included the need to have "practices working together at scale" and that practices "don't have to merge with other practices (to achieve the model of the future)" set the theme for the debate.
Concerns about continuity of care were raised by a number of delegates and all of the panel recognised the importance of maintaining this in any practice enlargement, whether through greater collaboration, federation, merger or even a move into a "Super" partnership format. There was recognition that a practice list size of 30,000 to 50,000 might be optimum, but it was accepted that some units would operate at a considerably smaller or larger scale. In his video interview, Dr Madan had been careful not to specify any optimum size.
The panel dealt with a range of interesting questions from delegates. These showed the overriding need for tailored solutions to the various working at scale models and there was clear agreement that there was no "one size fits all" solution. The issue of loss of practice autonomy was raised by many and there was some consensus that although this might be overcome with a balanced management and control structure, the size of a "Super" partnership might well be more than some practices would feel confident with.
Simon Gates - Wyre Forest Health Partnership
Simon Gates told the conference that the Wyre Forest Health Partnership, comprising of six practices in the North Worcester area, had been operational for some three years, was a fully integrated partnership and was in the process of offering an extended range of services to patients. They had already made a number of efficiencies in buying services and had increased income. However, they were still to see a decrease in costs as they were investing heavily in service development and were piloting a Community Psychiatric Nurse Service.
Peter Swinyard - Family Doctors Association & The Phoenix Surgery
Peter Swinyard emphasised the essential nature of continuity of patient care but, along with all the panel, recognised the difficulties with partner recruitment. Many of the delegates joined him not only in advocating the benefits of continuing care, but also the benefits brought out by a strong relationship within the whole health care team. He recognised that some services could be provided in other places but thought that the established doctor/patient relationship was key.
Nigel Grinstead - Open Junction
Nigel Grinstead said that he and his team supported provider organisations in all their various shapes and sizes to not just survive, but to thrive in the commercial health and care marketplace. He had seen almost every possible combination of working, and strongly believed that there had to be complete flexibility when designing models of care through groupings, federations and mergers - at whatever scale.
Andrew Lockhart-Mirams - VWV
Andrew Lockhart-Mirams made the point that merger planning also had to take account of what was to happen if one or more practices wished to exit the arrangement at a later point and that satisfactory exits matter just as much as entry. He hoped that Brexit type problems could be avoided by proper planning! He also listed a number of technical points, including the need to watch out for the imposition of VAT, that practices would need to take account of. All present agreed that practices needed to consider what their aims and objectives were and whether these could be achieved by working at scale. Furthermore, there was general agreement that it was vital to plan carefully and take specialist professional advice when considering options of working at scale. Like minded practice ethos and vision were very important.
Conclusion
In conclusion, excluding delegates who said they would have preferred a motion in different terms, the motion was carried with 57% in favour and 43% against.
---