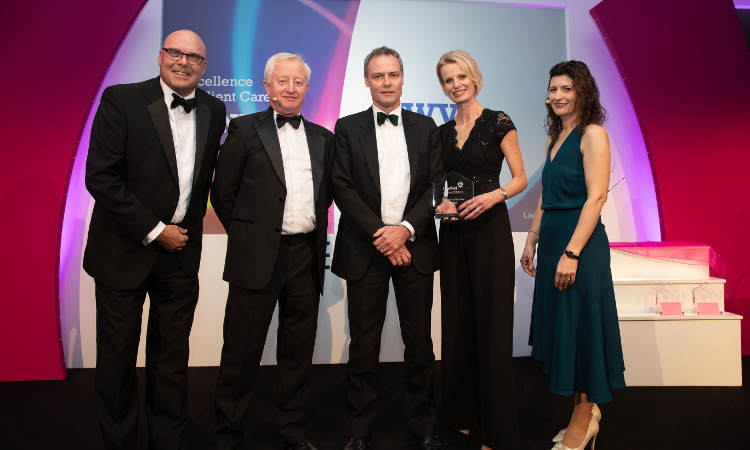 L-R: Jim Smith, insight6 (sponsor); Chris Marston, LawNet Ltd, Richard Phillips & Antonia James, VWV, Helen Hamilton-Shaw, LawNet Ltd.
A nationally recognised accolade, the award is given to the firm that demonstrates excellence in the provision of client care and a commitment to delivering initiatives that improve the client experience.
LawNet, the UK's leading group of law firms, has over 70 member firms and has been supporting independent law firms for over 25 years, with a focus on helping member firms improve client service in the last 5 years.
The award Judges commented:
"Our winner is a firm where client care is a key deliverable, with an appraised set of objectives and a training requirement for every single member of staff. That commitment is reflected in the appointment of a director of client relations two years ago, initiatives such as #FeedbackFriday, a dedication to client listening and a relentless pursuit of improving client experience including the launch of a new enquiries team to take the driving seat on managing website leads.
The firm's core values place the client at the centre of the firm, together with teamwork and collaboration and their ethos has seen outstanding results including 82% of instructions in the last financial year being made by existing clients. Chambers has described the firm's client service as 'first-class and personable' and we second that."
VWV Director of Client Relations, Antonia James, commented:
"We are thrilled that our commitment to client care has been recognised. At VWV, a key element of our marketing strategy is listening to our clients. Their feedback truly matters to us and has a strong influence over investment choices. This award is testament to the work we do to ensure our clients receive a first class service."
The firm celebrates a further award from the weekend, which saw VWV's Partner Clive Read named as 'Professional of the Year' at the Birmingham Awards.
These latest awards takes VWV's total for the year to seven, including Outstanding Business Woman of the Year (Dee Kundi) - Asian Business Chambers of Commerce, Team of the Year (VWV approach) - Bristol Law Society, Legal Firm of the Year - City of Birmingham Business Awards, Legal Category - Bristol Life Awards and Gold Award - Clean City Awards Scheme.