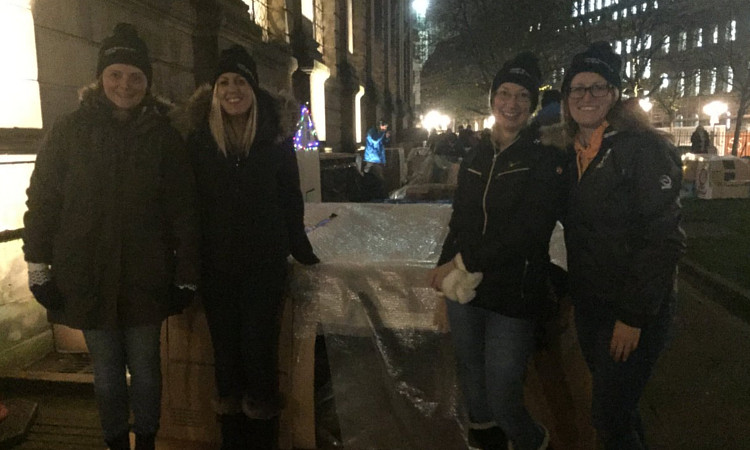 It was chosen as Charity of the Year by our Birmingham office. Each year, staff nominate a charity to partner with and raise money through a variety of fundraising activities, as well as donations from the charitable trust.
Last Friday, four colleagues from our Birmingham office took part in St Basils' Big Birmingham Sleepout 2016 and experienced even if only for one night how hard it is to sleep outside in the city centre of Birmingham.
Kathy Halliday, Rachael Francis, Lorna Scully and Alexandra Ireland joined hundreds of volunteers who braved the cold and spent the night sleeping in cardboard accommodation in the grounds of Birmingham Cathedral to help raise money for the charity.
The event saw a record breaking attendance this year, with over 600 people flocking from the comfort and warmth of their homes to take part in the challenge.
VWV team's involvement has certainly paid off as over £1,500 has been raised so far.
Kathy Halliday commented:
"We were faced with a British Winter evening with near freezing temperatures and bitterly cold winds to test our resolve. The cardboard boxes do not provide a safe or comfortable place to sleep even with a sleeping bag to keep warm.
Big Birmingham Sleepout seeks to raise awareness about how tough having to live outside can be. As I am sure the majority will agree, this is a challenge not to be taken lightly and unfortunately, the reality is, this is a situation thousands of individuals face on a daily basis."
Barrie Hodge, Head of Fundraising at St Basils said:
"Over 10,000 people are registered as homeless in the Midlands and South West but this is just the tip of the iceberg in terms of understanding the full scale of the issue. Our Sleepouts are a stepping stone in reaching the mile stone that is conquering homelessness in the West Midlands.
With the event donations totalling over £25,000 and still on the rise, hats off to our VWV volunteers, whose efforts have played a significant part in making the 2016 event a record breaking year."
As part of the firm's commitment to the community, our staff are encouraged to engage in community support work and projects both during office hours and outside.
To make a donation to St Basils, please visit www.stbasils.org.uk/help-us/donate/