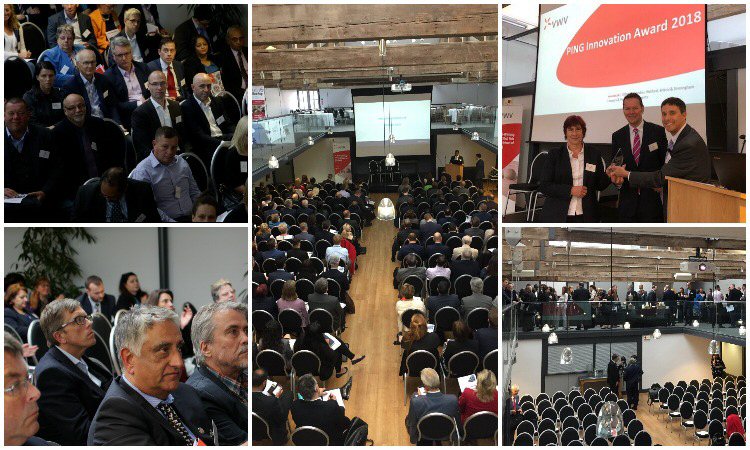 With the 29 March 2019 Brexit date approaching, the UK will become a third country and it is imperative that we are ready for the Brexit negotiations and the future economic relationship.
Over 170 people from across the pharmaceutical sector supply chain gathered for the 2018 Pharmaceutical Industry Network Group (PING) seminar, held in conjunction with Ethical Medicines Industry Group (EMIG). The seminar opened with a welcome speech from VWV's PING Chair and VWV Partner and Head of Pharmaceutical and Life Sciences sector Paul Gershlick followed by EMIG Vice Chair Abid Karim. Hertfordshire Local Enterprise Partnership Grand Challenge Commission Chair John Gourd then spoke about the exciting challenges and future opportunities facing the sector, including a call to action to gather views and input on the local implementation of the Life Sciences Industrial Strategy.
Regulatory Plan and Changes
The seminar began with an interview with Dr Ian Hudson, Chief Executive of the Medicines and Healthcare products Regulatory Agency. Ian gave an overview of the MHRA position and where it sees its future relationship and opportunities, commenting: "The UK Government's preferred position is in line with the Government's desire to see the UK have associate membership of the European Medicines Agency. The MHRA are also looking to develop other opportunities with our international work."
Dr Peter Gough, Executive Director at NSF Pharma Biotech, provided a practical overview of the regulatory implications for Brexit, stating that shortages could arise if extra admin or customs procedures are introduced. Peter also emphasised the importance of other factors, such as the EMA's relocation to Amsterdam, the role of the MHRA, centralised marketing authorisations and safety features around data. Peter reminded delegates that "if we are to avoid issues with the supply of medicines we need sensible, pragmatic decisions from both UK and EU politicians… the time to act is now, sitting on the fence is no longer an option".
Trading Between UK and the EEA
It is important to understand what Brexit means for trade between the UK and the rest of the EEA. The British Association of European Pharmaceutical Distributors (BAEPD)'s Legal Adviser, Julian Maitland-Walker, discussed the EU membership and the impact of Brexit on intellectual property rights in the pharmaceutical sector, covering European patents, trade marks, access to the market to trade and exhaustion of rights.
Julian explained that Brexit's impact on parallel distribution could result in the loss of 3,000 UK jobs, elimination of NHS clawback savings, loss of access to certain specialist drugs and an increased risk of supply chain shortages. With this in mind, the BAEPD's approach to Brexit is to ensure parallel imports survives and sustains the free circulation of medicines within the EU through maintaining regulatory convergence and preserving exhaustion of rights on trade between the EU and UK.
Access to Talent - Immigration and Free Movement of People
Recent reports have confirmed that Pharmaceuticals and Life Sciences businesses are struggling to attract and retain key talent from overseas as a result of uncertainty over Brexit. VWV's specialist Immigration Senior Associate, Tom Brett-Young stated, "Nearly two years after the vote to leave the EU, there continues to be lots of uncertainty amongst employers in all sectors as well as EEA nationals in the UK. The unique challenges facing the UK's Pharmaceuticals and Life Sciences sector as Brexit approaches means that access to talent is just one of a number of important issues the sector must face. There are a number of practical steps that employers can take now to secure talent."
Access to People and Funding Issues Post-Brexit
Professor Darragh Murnane, Professor of Pharmaceutics at the University of Hertfordshire's Centre for Research in Topical Drug Delivery and Toxicology, addressed the freedom of movement, student migration and mobility implications to affect UK students compared to their EU counterparts in higher education post-Brexit Britain. Students provided a good source of access to future talent for businesses in the sector, so the concern was over withdrawal of funding opportunities and that, subject to Brexit negotiations, there may be a higher cost to come into UK universities for EU/EEA students post-Brexit. Darragh set out a number of initiatives designed to work with business in light of Brexit, including apprenticeships, student placements and the £6m Hertfordshire Science Partnership.
Summary
Paul Gershlick, Chair of PING and Head of Pharmaceuticals and Life Sciences at VWV commented, "The event focused on the key areas of uncertainty surrounding Brexit's future impact on the UK pharma sector and economy. It was clear to all that much will still depend on the outcome of the Brexit negotiations between the UK and EU. However, the speakers showed delegates that there are practical steps that should be done now to prepare in light of the regulatory changes, trading with Europe, access to talent, and funding. Despite the uncertainty, what remains clear is that doing nothing is not an option. Pharma businesses need to follow big pharma's lead and act now to prepare."
---