From the UK's global-leading latest genomics projects to personalised targeted treatments and the use of AI technologies in pharma and drug discovery, pharma experts discuss Britain's great life sciences future.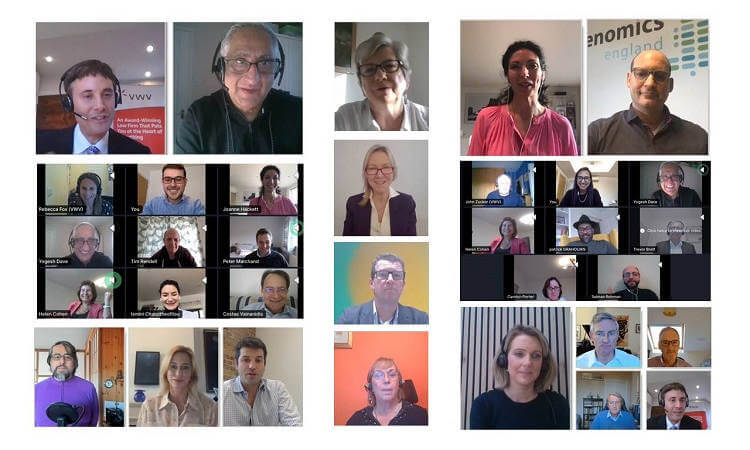 Over 180 delegates who are involved with pharma attended the 11th Pharmaceutical Industry Network Group (PING) Conference and the first one held virtually, held in conjunction with Hertfordshire Local Enterprise Partnership and Eventum Partners.
Highlights from the conference included news about the launch of NHS England's Genomic Medicine Service, future opportunities for cell and gene therapies, more efficient use of data to improve drug discovery and personalised medicine, and strong industry collaboration and investment opportunities.
As the conference unfolded, various pharma areas were addressed, with input from leading pharma experts.
UK's Leading the Genomics Revolution
In the opening keynote at the PING Conference, Parker Moss, Chief Commercial and Partnership Officer at Genomics England Limited (GEL), shared how GEL would help keep the NHS at the vanguard of Genomic Medicine. Parker explained "Our focus is impact and ensuring the NHS continues to lead the world in the implementation and delivery of genomic medicine at national scale. To that end, Genomics England has been working hard alongside the NHS in preparation for the launch of the Genomic Medicine Service, making whole genome sequencing the standard of care for a selection of cancers and rare diseases. Part of delivering a world-leading service is ensuring it continues to benefit from advancements in technology and research. Genomics England has recently transformed its research offer with the implementation of cutting edge research tools, a new cloud-based platform for more powerful genomic analysis, and supporting clinical studies and trials. Genomics England is working in close collaboration with pharma to accelerate research and translate it into improved healthcare outcomes for patients globally."
Dr Joanne M. Hackett, Chair at Pexxi and formerly Chief Commercial Officer at GEL, emphasised the need for the "triple ABC helix" - academia, business and community. She mentioned the high level of investment and collaboration in genomics globally with about 190 public and private initiatives embedded into the healthcare system, and how the UK is at the forefront in ground-breaking diagnosis, prevention and R&D. Joanne highlighted that "the past six months has shown us the value of collaborative working and the linkage of data. I predict greater emphasis on value-based care."
Applying Genomics and Gene Therapies
Cell and Gene Therapy Catapult's Chief Executive, Matthew Durdy, stressed how the future is very exciting with major developments expected over the next decade. The types of successes in science and commercialisation in which the Cell and Gene Therapy Catapult has participated in advanced therapies (lifesaving therapies and new high value jobs through industry growth) are expected to be seen crossing over into genetics and personalised medicine. Matthew stated that this may be in phases: "Firstly, the precisely guided use of medicines, especially high value advanced therapeutics; and then the convergence of increased data and information, genetics and proteomics, and advanced therapeutics to create highly targeted and personalised treatments."
Early intervention and prevention in the world of genomics is paramount in transforming lives and with this comes with a greater knowledge and understanding of gene therapies, from rare genetic disorders to common disorders. Avesthagen's Executive Board Director, John McKinley, spoke about the modern data-omics study of the Parsi endogamous population offering unique insights and disease traits, leading to accelerated identification of biomarkers. John stated that "as this biobank population increases in size, we will offer the widest access to industry to deliver rapid translation of these insights into predictive diagnostics, medicines and therapeutics."
Dr Nick Lench, Co-Founder and CSO of Congenica, mentioned disease biology in relation to newborn screening to enable experts to identify serious rare genetic disorders immediately and moved on to mention how "the UK is leading the way in genomic medicine providing a national whole genome sequencing service to patients with rare genetic diseases. Congenica is excited and proud to be working with GEL and NHS England to deliver this ground-breaking service."
What's Next for Personalised Medicine and AI?
SOS Ventures' General Partner Bill Liao together with My Personal Therapeutics' CEO Laura Towart and Machine Medicine Technologies' Founder Dr Jonathan O'Keeffe, stressed how machine learning, feedback, data and collaboration are key in creating breakthroughs in AI, therefore improving the quality of life. It is all about how the best AI start-ups really shape the cause of established businesses as they learn faster, adaptable and able to keep up the pace, especially during COVID-19. Jonathan stated how "drugs are not the answer to CNS disease, but neurotechnology is", with Laura concluding that "it is all about prevention rather than cure."
Professor Jackie Hunter CBE at Benevolent AI further expanded on the AI revolution in drug discovery and how it is all about the 3P's,"platform, people and portfolio" and "uniting advanced AI tools with its vast integrated knowledge graph in order to empower scientists, both in-house and through pharma collaborations, to discover more efficacious medicines faster."
We also heard how biopharma is also forging links across the value chain by reducing clinical trial length and having clearer targeting, from Deloitte's Head of Centre for Health Solutions, Karen Taylor, and Global Life Sciences Consulting Leader, John Haughey. Karen added how this had been seen in helping to reduce the time to discover COVID-19 vaccines.
Future of CAR-T
CAR-T is proven as an effective and targeted way to fight some haemophilic cancers and offers real promise to treat other liquid cancers and solid tumours, as well as other human diseases in the future. There are now over 700 clinical trials worldwide using CAR technologies, and the outcomes of these trials will be released in the next few years. NHS England has established 13 Genomic Medicine Centres (GMCs) to make these therapies become a routine part of NHS care.
Yogesh Davé, Director of Cypress Quality Consultancy, mentioned that "throughout my career, I've always cared about making a real difference to patient's life and be at the cutting edge of research and development. Algorithm-based medicine is the future. The promise of delivering a precision medicine to patients for best outcome is now a reality. The future of CAR technologies is bright."
Summary
The event was opened by VWV's PING Chair and Partner and Head of Pharmaceuticals and Life Sciences sector Paul Gershlick, together with some opening words of support from Dr Sally Ann Forsyth, CEO of Stevenage Bioscience Catalyst and Board Member at the Hertfordshire LEP, and Darren Spevick, Managing Partner of Eventum Partners.
Sally stated: "This conference is a shining example of how Hertfordshire is curating growth by playing to its key sector strengths. Stevenage in Hertfordshire is now at the epicentre of a globally renowned cell and gene cluster thanks to targeted LEP investments and a supportive ecosystem that is instrumental to its success. We are proud of our long association with this event, which has grown in scale and stature and now attracts an audience from far beyond the county's boundaries."
Darren commented: "Eventum Partners are delighted to have supported the PING 2020 conference. Paul and the VWV team did an amazing job during this challenging COVID19 period to once again pull together a fantastic agenda and British Life Sciences leaders to shed light on the growth opportunities in genomics, AI and personalised medicine."
Paul Gershlick concluded: "We are delighted to have held our first-ever virtual PING Conference with such a stellar line-up of speakers on these key areas. The future of life sciences is promising - it is all about innovation, individuality and collaboration. The UK is the vanguard within the pharma industry in these exciting areas, taking it to new heights to improve people's overall health".
---