Partner & Education Lawyer in London
How Can Yvonne Help you?
Having worked for many years advising schools on child protection, inspection and regulation, SEN and equality, serious disciplinary incidents, complex complaints, reputation management and the media, Yvonne is well placed to assist you and your school when complex and often unforeseen incidents occur.
Yvonne is deeply committed to providing senior leaders in education the support they need when dealing with serious incidents. She works with independent schools and academies and draws on a wealth of experience spanning 20 years.
Yvonne has many years' experience at board level, including being a school governor for 8 years, a member of the London Committee for Human Rights Watch, a member of the Solicitor Advocates' Association Executive Committee for over 12 years and more recently, as a Trustee of ISBL.
International Expertise
Yvonne Spencer's international experience relates to advising overseas governments and local authorities.
Yvonne has carried out this work for 18 years, focussing on legal reform to bring about the de-institutionalisation of children to enable them to leave state orphanages to live with their natural families or foster carers wherever possible. This legal work has included developing national systems for the accreditation and inspection of children's services, reforms to equality legislation and the development of legal frameworks for inclusive education for children with SEND. She has also advised governments on the development of national professional standards.
Countries where Yvonne has experience: Romania, Moldova, Bulgaria, Czech Republic, Tajikistan, Turkmenistan, Jordan and Japan.

Meeting Your Needs
Yvonne is keen to ensure that you receive cutting edge and contextual advice. Her contributions to the education law arena include Butterworth's Law of Education and Jordan's Education Law Journal.
Yvonne enjoys public speaking and is a regular speaker at national conferences. Recent topics include safeguarding and child protection, strategic advice on MAT expansion, exclusions, admissions and regulatory compliance.

What Others Say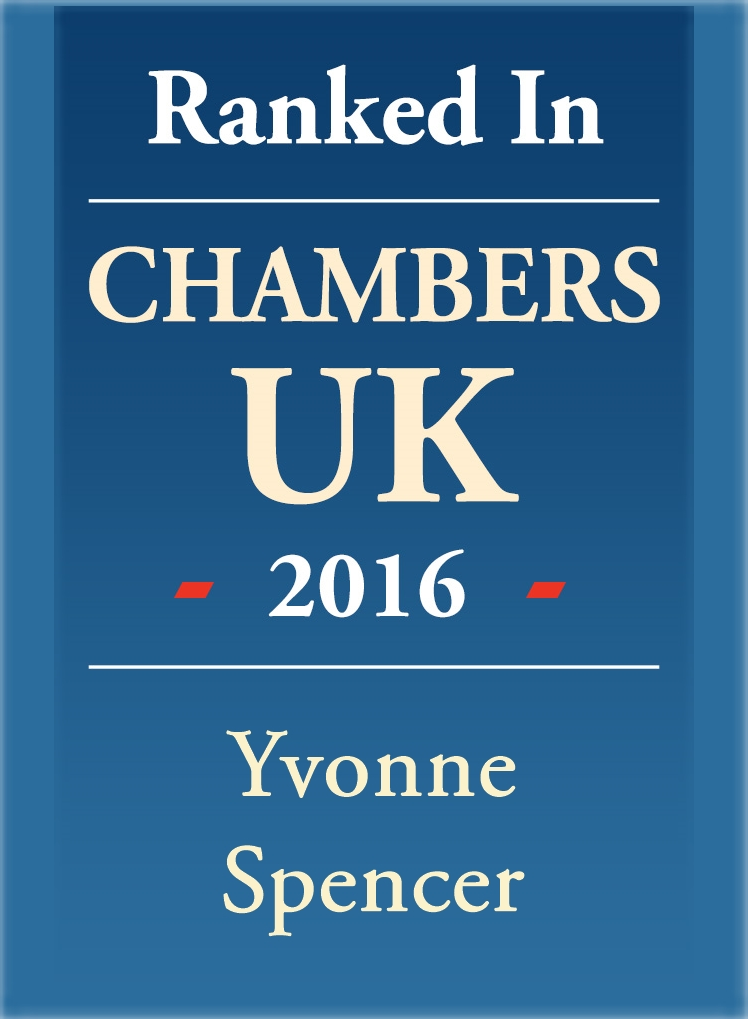 The Legal 500 recognises Yvonne as an education law expert. In Chambers & Partners, Yvonne is recommended as a key individual for education law expertise and noted for being 'a standout individual' and an 'outstanding lawyer', who has 'a great deal of presence and expertise' and 'provides sound, strategic level advice with a good understanding of the risks to which the school might be exposed.'
Chambers & Partners also states, 'The effective and efficient Yvonne Spencer has significant expertise in academy conversions. Interviewees are quick to praise her as being 'very impressive and very able', and 'someone who has done an absolutely fantastic job'.'
'I love her deep understanding of the sector; she is a dyed-in-the-wool expert. She has done a magnificent job, and is very personable.' - Chambers & partners client quote

What You Might Like to Know
Yvonne is the first female to be appointed Chairman of the Solicitors Association of Higher Court Advocates.
She acted in the first 'right to education' case of Begum v Denbigh High School [2006] UKHL 15.
Yvonne plays golf, loves cooking, has an ambition to appear on Strictly Come Dancing and is a half marathon runner.